Our plumbers repair sewer lines in commercial properties large and small in the Magic City.
Few things strike fear into a business owner's heart like a sewer backup. The moment sewer blockages threaten the safety of your employees, guests, and customers, the dollar signs start adding up. When you're faced with shutting your doors, relocating tenants and guests, or suspending operations, you need a team on your side who is ready to get you back in fighting shape fast. That's where Drain Werks comes in.
If your business is up against stubborn clogs, multiple slow drains, or sewage backups, our team is standing by 24/7. We're trained and ready to perform commercial trenchless sewer line repair, traditional excavation for sewer line replacements, and routine sewer cleaning services to get you back to business. For affordable and dependable sewer line repair and replacement services, get in touch with Birmingham's drain and sewer specialists today.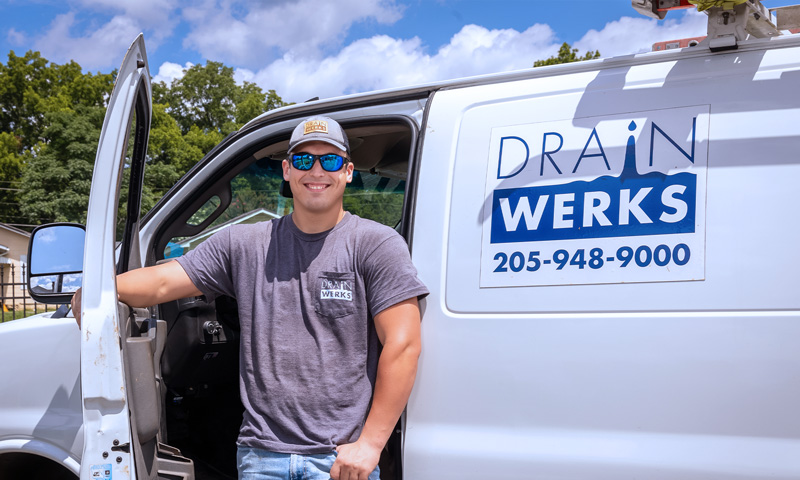 Call Now for Expert Plumbing Repair Service in Birmingham!
Our experienced commercial service plumbers are ready to get your business back on track. For blue-ribbon service in the Birmingham metro, call today!
Your Full-Service Commercial Sewer Specialists
At Drain Werks, we're all about making your drains work for you. We go above and beyond our first-class drain cleaning services, providing preventative maintenance, routine repairs, and emergency sewer line services. We're ready to take swift action for broken or collapsed pipes, sewer blockages, corrosion, tree root intrusion, bellied pipes, leaking joints, and more. Our trained specialists can perform advanced trenchless repair and replacement services when the situation is right. You can trust us to always offer honest, upfront, and long-term solutions with full respect for your property, your people, and your bottom line.
Plumbing Problem?
We've Got the Solution.
* Indicates required questions
"*" indicates required fields
Why Birmingham Depends On Drain Werks
Contact Us for Superior Sewer Line Services
Drain Werks is the name Birmingham businesses trust for all their sewer line repair, replacement, and maintenance services. Contact us 24/7 and get back to business fast!